As a Pasifika woman of Fijian and Pakeha descent born and raised in Mt Wellington, Auckland my journey has been privileged relative to many others, however, this has not stopped me from recognising the inequity faced by Pasifika peoples in the New Zealand community. As Pasifika people we are taught from a young age reciprocity, generosity, community and family values. I believe that it is time to give back to those who have helped on my journey to success and pay forward to those generations starting on theirs.
The work that I do is dedicated to helping other Pasifika people like myself not only succeed but also lead purposeful, meaningful and significant lives. I have spent over 12 years in the higher education space from undergraduate student, graduate student, professional staff and now academic with a PhD in Education. I understand the hardships and road blocks that come as a Pasifika student and endeavour to make the transition for those following me a lot easier.
I engage in research as a way to be of service to my community. I fundamentally believe that all people have a right to reach their potential and for now I am focussed on how higher education institutions can better serve the people who work and learn within their institution. 
Over the years I have come to understand that any research of major importance can only be initiated with community engagement and collaboration. This community engagement allows for better research practice that engages a more holistic approach towards research.
In all aspects of my research I seek to understand to create meaningful outcomes. Without a deep understanding of the information there cannot be any transference into implementing it into practice
One of the most important aspects of my research is not allowing it to disappear into the ether but instead I work hard to bring current research to the fore to effect change. Even though it is not an easy process it is the most important reason why I do the work I do.
My journey as a Pasifika Academic started early in life with the teachings from my family of love, support, caring and empathy all values I believe are important for my success. I started my undergraduate studies at the University of Auckland, and like many, was not sure of the career or future I wanted to follow. Fortunately my chance meeting with Dr. Airini set me on the path towards academia and gaining a career as a lecturer in the sociology of education.
I completed my Bachelors and Masters degrees at the University of Auckland and finished my PhD at the University of British Columbia (UBC) in Vancouver, Canada.  Although it was a difficult time being away from home during my PhD, my experience with First Nations people helped me gain further insight into my own education and experiences that I hope to bring home with me.
Past and future projects​
I have completed a variety of projects which can be found here and at the moment I am working to contribute to more in the future. Please feel free to contact me if you have any questions or want to collaborate.
See my CV for more information on my work
If you are interested in working with me feel free to check out my CV at the link below, or contact me if you have any queries.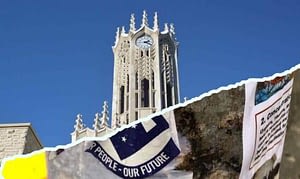 When actions speak volumes on values: UoA response to Action Zealandia Allowing Action Zealandia on University campuses is a breach of the Bill of Rights. Img Source: http://www.stuff.co.nz Share on
Read More »