These are things I want us to take a moment to question when we do our work in promising practices for access and success in higher education…
I recently had the opportunity to speak with visiting Aboriginal Peoples from the University of Tasmania as part of Indigenous student exchange between TRU (Knowledge Makers) and the University of Tasmania. It was really a special moment to be able to not only hear the voices of people so close to home but to also talk about with them about the work they do and how they wish to make a change in this world. This presentation outlines why change is necessary in universities (white masculine imprint) and then offers knowledge-making as way to contribute to the necessary change.
You can download a copy of Knowledge Making and Navigating here.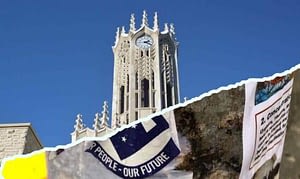 When actions speak volumes on values: UoA response to Action Zealandia Allowing Action Zealandia on University campuses is a breach of the Bill of Rights. Img Source: http://www.stuff.co.nz Share on
Read More »